Glass Dessert Bowl
Shipping & Returns
This item ships within 1-5 business days.
The shipping times will vary depending on the country of delivery, the weight of the parcel, and the dimensions of the package. Based on statistics, if your address is correct, 90% of orders will be delivered within 7-10 days.
Additionally, some items may be shipped separately.
You can easily return an item for a refund within 30 days of purchase through your original payment method, subject to return shipping charges and non-refundable shipping charges on the original order. If the quality issue is our fault, you can get a full refund without returning the product. Customer experience is our top priority.
Product Details
Composition
Heat-Resistant Glass
Measurements
6.3L × 6.3W ×4"H
Want to see what it looks like in your home?
Some products support augmented reality functionality, allowing you to preview the product in your home. Everything are modeled from real size.
If your device supports this feature, you may see "View in your space" button, simply click on it, then experience the magic.
For more informations, check our Introduction video
Description:

Superior Quality: Crafted from durable heat-resistant glass, our dessert bowl is built to last. The glass is designed to withstand high temperatures, ensuring it can be used for both hot and cold desserts.

Versatile Design: With a sleek square shape and perfect dimensions , this dessert bowl is not only ideal for serving mouthwatering desserts but also suitable for salads, fruits, and snacks.

Elevate Your Presentation: The transparent glass design beautifully showcases your culinary creations, making them even more enticing. Whether you're plating a decadent chocolate mousse or a fresh fruit salad, this bowl adds a touch of sophistication to your table.

Easy to Clean: Cleaning is a breeze as the glass is non-porous and stain-resistant. Simply hand wash with mild detergent or place it in the dishwasher for added convenience.

Ideal for Various Occasions: This glass dessert bowl is perfect for everyday use, family dinners, special occasions, parties, and more. Its versatile design fits seamlessly with any table setting.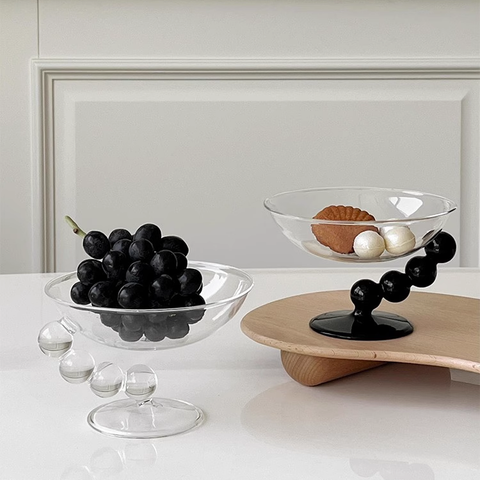 Related Room